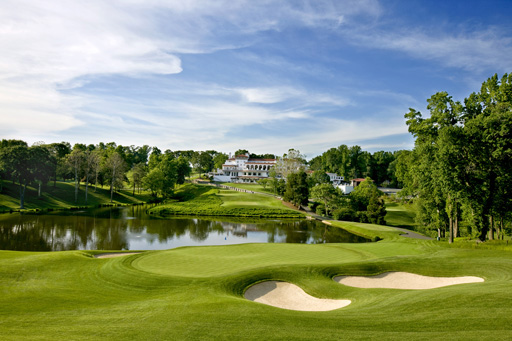 The US Open is often described as the most difficult major to win. Unlike the Masters, which features a limited field, a maximum 156 players will tee it up at the famed Blue Course at Congressional Country Club in Maryland this year – over half of whom will have made it through the rigours of International and Sectional Qualifying in the weeks leading up to the championship's June 14 start date. Then there's the course itself. US Open courses are man-sized affairs. The USGA's method of identifying the best golfer of the week has traditionally been to make the courses play at their very limit yardage-wise, while at the same time narrowing the fairways to exceptionally measly proportions. But unlike, say, the Old Course at St Andrews where there is at least some room to manoeuvre if the cut grass is not found, the US Open philosophy has been to penalise even the slightest misjudgement. More often than not, the only optional available to those missing landing areas has been the rather graceless hack back to the fairway.
But these times they are a changing. Enter Mike Davis, the USGA's new executive director who, it could be argued, has more influence on whether the 2011 edition of the championship turns out to be a truly memorable one than any player in the field.
Davis, a likeable Pennsylvanian in his mid-40s, was formerly the Open Championship director and his input over the past few years has gone some way to changing the perception of the US Open for the better in terms of its fairness and ability to produce a worthy champion. It was he who introduced the concept of "graduated rough" – which in layman's terms means that the penalty for missing the fairway is now determined by how far a player hits it off line. Those just missing the landing area are now in theory much better off than those who hit it really crooked. It sounds basic enough but the simple ideas are often the best ones, and in this case Davis has earned the support of both the pros and the viewing public. The former like the fact that being a yard off the fairway doesn't necessarily mean they're left fighting for par, while the latter, fed up with the snooze fest that the US Open had become, are just happy to see the world's best being more aggressive in their shot selection than ever before. You can be sure that despite Davis' recent promotion, he'll be keeping extremely close tabs on how the Blue Course is prepared.
Pages