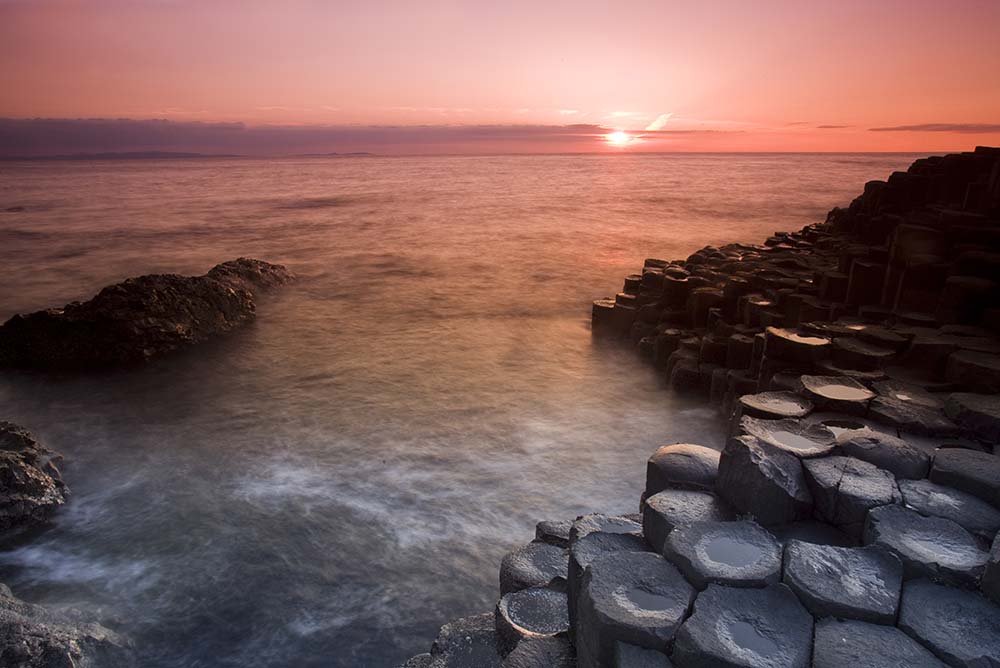 SIX TO MIX
Golf breaks may be good for the soul, especially in such a relaxed and welcoming environment as offered-up by Northern Ireland. However, with fine food and drink on offer at the end of a day's play, with family or friends, it's well worth spending some time in what a cornucopia of offcourse experiences is, especially given that travel distances in the Province are not off the scale.
1. Giant's Causeway. One of the great geological phenomena in the world; located almost at the most northerly point of the island of Ireland, this UNESCO World Heritage Site is truly breathtaking. Jutting out into the frequently-stormy North Atlantic, the Giant's Causeway is an area of about 40,000 interlocking basalt columns, the result of an ancient volcanic fissure eruption.
Located in County Antrim on the north coast of Northern Ireland, about three miles northeast of the town of Bushmill, legend has it that Irish giant Fionn Mac Cumhaill (Finn McCool) created the causeway to travel to Scotland and fight his rival Benandonner but came back somewhat smartish when he saw how big he was.
2. Titanic Belfast. One of Northern Ireland's most popular visitor attractions, Titanic Belfast opened in 2012, a monument to the city's maritime heritage on the site of the former Harland & Wolff shipyard in the city's Titanic Quarter where the RMS Titanic was built.
Designed by American-born British architect based Eric Robert Kuhne and built at the cost of £100m (approx. US$130m / HK$1billion) this award-winning visitor attraction, exploring the Titanic story in a fresh and insightful way.
RMS Titanic was a British passenger liner that sank in the North Atlantic Ocean in the early hours of 15 April 1912, after colliding with an iceberg during her maiden voyage from Southampton to New York City.
An estimated 2,224 passengers and crew were aboard, more than 1,500 died, making it one of the deadliest commercial peacetime maritime disasters in modern history. RMS Titanic was the largest ship afloat at the time it entered service and was the second of three Olympic-class ocean liners operated by the White Star Line.
Pages