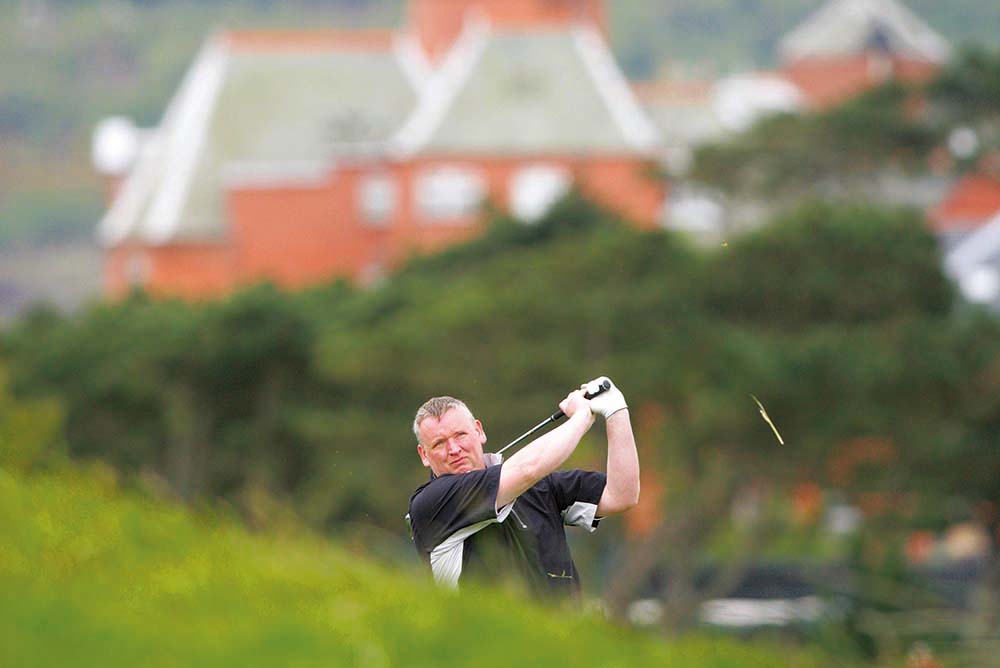 In the south-west of Northern Ireland lies what, for this commentator at least, the crown jewels, the spectacular, five-star Lough Erne Resort. It hosted the G8 Summit in 2013. Close to the town of Enniskillen, on the southern shores of Lough Erne, with 120 luxurious rooms in Northern Ireland's first and to date only AA hotel. Configured as traditional rooms, suites and loughside lodges, there is also a self-contained, bespoke Golf Village, a selection of three-and-four- bedroom houses, overlooking the 18-hole championship Faldo Course, designed by the sixtime Major champion himself.
The 7,000-yard-plus, Par-72 layout parkland course is dominated by Lough Erne and sits cheek-by-jowl with a second, less demanding but enjoyable Castle Hume Course. There is a golf academy and driving range to warm-up, learn to play under the watchful eye of the most attentive team of teaching professionals.
During the autumn time, when the colour of the extensive foliage is every bit as inspiring as New England in the fall. Midweek rooms are on offer at £110.00 (approx. HK$1,132.00), including a £70.00 (approx. HK$720.00) voucher for breakfast and access to the extensive Thai Spa facilities, with exceptional food and beverage options from the fine dining in the Catalina Restaurant to the authenticity of the Blaney Bar and the Loughside Bar & Grill.
If there is a better autumnal golf resort package on offer, anywhere in the world, I'd like to experience it as Lough Erne is, without exception, second-to-none.
Other exceptional golf experiences in Northern Ireland include the Belvoir Park Golf Club, in County Antrim. Established in 1927 and set in some 163 acres of delightful parkland and was designed by one of the greatest architects of all time, Harry S Colt, voted 'Best Parkland Course in Ulster' in 2016. Given the quality of many of the country's inland layouts, that's quite an accolade.
Castlerock Golf Club is an exceptionally family-friendly club comprising the 18-hole Mussenden Course - at 7,000-plus-yards a genuine challenge and the nine-hole Bann Course, Castlerock earning the title of 'Northern Ireland's Hidden Gem.'
With the clock counting down to the 148th Open Championship returning to Northern Ireland, the focus of attention will inevitably be on the Province. However, let there be no doubt, there is more than enough class and a warm enough welcome to ensure that, all things being equal, it won't be another 68 years before the world's greatest championship crosses the Irish Sea once more.
Pages