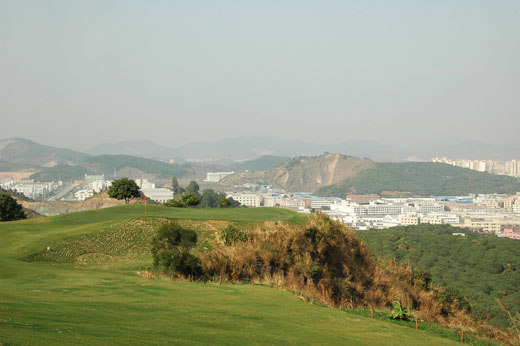 Background
Fenguangshan, also known as Phoenix Hill, opened its full 18 holes in January 2008. Developed in harness with the local government by a mainland owner, the club is not really a 'club' in the proper sense of the word – they're not planning on issuing memberships any time soon, meaning this track is open for all, seven days a week.
Course
Cripes, where to start? It's fair to say that Fenghuangshan is one of those courses that will be loved and loathed in equal measure. Let's start with the pros: laid out over spectacular mountainous terrain, 40 minutes from the Hong Kong-Mainland border in Dongguan prefecture, the course winds its way around a series of disused mines – the open-cast remnants of which form many of the hazards here – and features some quite brilliant holes, especially late on the back-nine. The cons: there are at least four holes that beggar belief. While the course is home to some of the most exciting and well-thought out golf holes in the area, it stumbles in parts purely because of the owner's wish to make this a par-72 layout. When will owners realize that having a par-71 or par-70 - even a par-69 - course in China is no disgrace? Clearly not here, because in an attempt to maximize use of his plot of land, the owner, who is also the designer, has squeezed in a ridiculous dogleg-right par-5 (the 570-yard fourth), which can only be negotiated with an iron off the tee due to the ravine that bisects the fairway at around 220-yards off the tee. The 15-yard landing area at the tiny, yet scenic par-4 second is another cause for concern (it's an automatic reload if you miss it by a foot), as are at least two other holes. But despite this, Fenghuangshan pretty much works. The views of the surrounding town (and accompanying industrial sprawl) is certainly impressive from the 10th tee – the course's highest point – and the splendid Lychee trees that form the backdrop on a number of approach shots add a certain maturity that belies the layout's age.
Pages
Click here to see the published article.