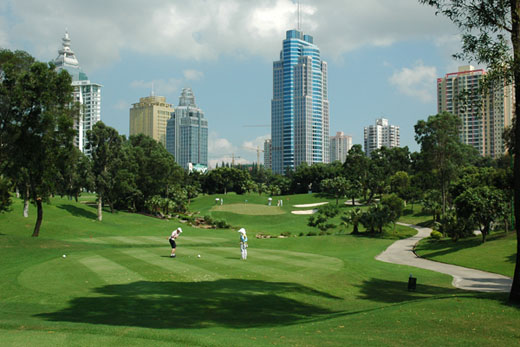 Background
Less than ten minutes in a cab from the border at Huanggang, amid Shenzhen's wacky skyscrapers, lies Shenzhen Golf Club – site of one of the best courses in southern China and an oasis of calm in an otherwise manic megalopolis. With its twenty-seven cracking holes and an unbeatable location, this place is a class apart from a sprinkling of uninspiring courses that rim the city's perimeter. No wonder China's golfing trailblazer, Zhang Lian-wei, has made the club his base, and the great man can often be seen gorging on mounds of noodles in SGC's stylish clubhouse before embarking on yet another practice round.
Opened for play in 1985, the club has the distinction of being one of the oldest courses on the mainland. Originally designed by Isao "The Tower" Aoki, the layout started life as the domain of Japanese and Korean businessmen and was an attractive, if fairly innocuous challenge. Enter Nelson & Haworth – the design firm who gave us Shanghai's Sheshan International, the East Course at Kau Sai Chau and a slew of other courses across Asia – who, in the late 90s, were called in to add much needed beef to this parkland layout.
Pages
Click here to see the published article.