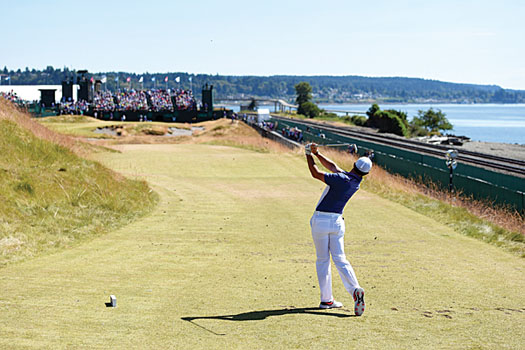 I have never been to Chambers Bay in person but I have seen enough pictures and read enough articles to know what I would expect if and when I do pay a visit. Admittedly I watched bits and pieces of the US Open - I was travelling at the time - but what I did see made for riveting viewing.
Chambers Bay is one heck of an engineering exercise. What was previously a sand and gravel quarry has been transformed into a championship golf course at considerable cost. Manufacturing a sports arena out of a derelict parcel of land is some achievement and is testament to the equipment we have to work with today and the creativity of all involved in the design, build and ongoing maintenance. The golf course shows just how much the industry has progressed, particularly from a construction and maintenance perspective and how it's now possible to build golf on just about any terrain.
What struck me most about Chambers Bay was its uniqueness. I am not one for the 'same old, same old' approach to the US Open and Chambers Bay certainly isn't that. I don't think America has seen anything like it before and I am sure most Americans are still perplexed by what they did witness over the four days. In fact, Chambers Bay is so different from your standard golf course found in North America - or anywhere, mind you - that it would be like comparing chalk and cheese. The Hollywood-like design and maintenance we so often associate with American golf was replaced by a more links-like character golf course - although I can't think of any golf course in the British Isles quite like it either. Nonetheless anything that keeps the game alive and prevents us being bored with it is has to be an advantage … and Chambers Bay was far from boring.
What I liked about the golf course is that it was far from one-dimensional. Instead it presented a high number of memorable shot opportunities on each hole - in fact it seemed to me that there were a multitude of holes within holes. Max Behr, the first editor of Golf Illustrated, spoke of golf architecture as giving "an intelligent purpose to striking a golf ball" and this was very evident as golfers had to plot their way around the course with real purpose. Golden Age architect Tom Simpson spoke of the importance of emphasising the necessity of the golfer to use their head as much as their hands; or, in other words, to make their mental agility match their physical ability, and you can't argue that this wasn't the case during the US Open.
Pages
Click here to see the published article.