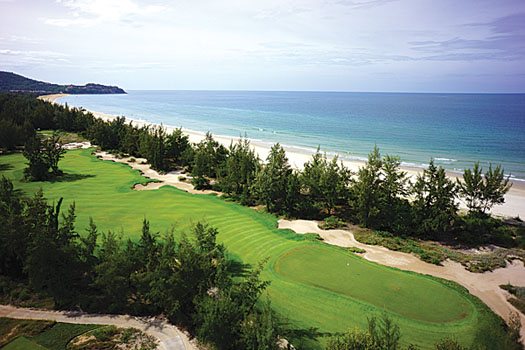 I went camping a few weeks back with the family. On one of the days we decided to go on a walk through some of the coastal sand dunes that made up much of the nature park where we were staying. As a golf architect anytime I see sand and dunes I get excited and so it was not long before I said out loud how good this terrain would make for golf.
At that point my wife pointed out how much better it is as a nature walk. I couldn't blame her; she's not really into golf. But what of the case where both a golfer and a non-golfer could enjoy a piece of property together - would that not make for the perfect situation? In the past, in places like Scotland, the courses were (and sometimes still are) treated as common land by the residents of the nearby town and used for recreational activities other than just golf. In fact not too long ago courses were used for all manner of purposes, from being a place for animals to graze to, somewhat oddly, laundering clothes.
Admittedly a golf course takes up a fairly large parcel of land - on average about 75 hectares (or approximately 185 acres) - so one could make the argument that within such a large space surely we could accommodate other activities. I understand it's not that easy when you start to think about security and safety but I can't help but think how much more my wife would enjoy the game - and certainly the surrounds - if she were allowed the opportunity to walk any golf course she chooses, at least along some of the cart paths or where paths were manufactured for recreation other than golf. Certainly some of my favourite golf courses are just as enjoyable to walk - and appreciate the environment - without golf clubs in tow as they are with.
When you think about mixed use and golf something I believe to be very feasible is the opportunity to grow an edible crop of sorts within the golf boundary - which would of course restricted to the far rough areas. This might at first sound a bit ludicrous but I have fond memories growing up in South Africa where it was not uncommon to pick fruit - I am thinking a mango or banana - from some of the native trees bounding the golf holes. I certainly survived to live another day and I don't recall seeing anything on my bill for mangos and bananas. I am not advocating rows and rows of apple and pear trees - although in areas out of sight and out of play this is a possibility - but I can't see any harm having some edible crop around the course if indeed it is native to the area and adds to the character of the land. Perhaps this would make more sense if the crop itself were used by the golf course / resort or for some other noble cause, as was the case at the Laguna Lang Co golf course in Vietnam, a project in which I was the lead architect.
Pages
Click here to see the published article.