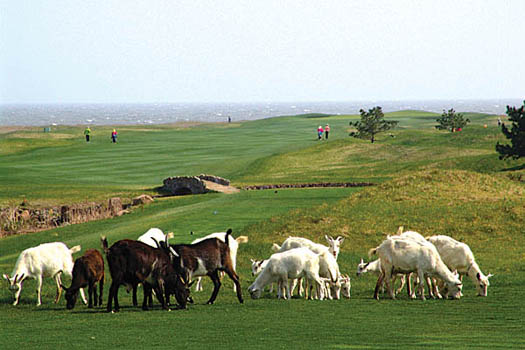 At Laguna Lang Co rice paddy fields were regenerated - and strategically bordered four of the golf holes - and could at one time produce up to 30 tonnes of rice from two harvests each year, much of which was used in the resort itself and some donated to local orphanages. This has created a win-win situation as visiting golfers have been able to experience and interact with this unique feature. Needless to say this is not something you see every day.
One of the buzz terms in course design today is "regenerative design". It may not get as much mention as "sustainable design" or "sustainability" but it is equally important. By definition: "Regenerative and sustainable are essentially the same thing except for one key point: in a sustainable system, lost ecological systems are not returned to existence. In a regenerative system, those lost systems can ultimately begin "regenerating" back into existence. Put more simply, regenerative systems create a better world than we (humans) found it, now and into the future."
As we design and redesign and build more golf courses I believe we can do a better job at regenerating lost systems - where they existed - even if they don't have an "edible" benefit. I can bet that by doing this exercise (regeneration) it will give the course added character, a sense of place and make it more identifiable and distinct - all of this being important in golf design and in helping improve the overall golf experience. Make no mistake, there are so many wonderful golf courses on this planet that have dramatically improved their space. I think of golf courses built on landfill sites and in old quarries, and this has to be a good thing. But I have sometimes wondered how many golf courses built on remarkable land - with remarkable existing features - have completely utilised what was there to start with.
To conclude, a golf course as part of a mixed use facility may sound crazy today but as we continue to compete for food and land and clientele it could become a very real concept into the future. As golf facilities - old and new - look to stay afloat, make money and remain competitive in the market place they will need to look at other resourceful ways of doing things. Perhaps the idea of a mix-use facility is not that farfetched.
Pages
Click here to see the published article.