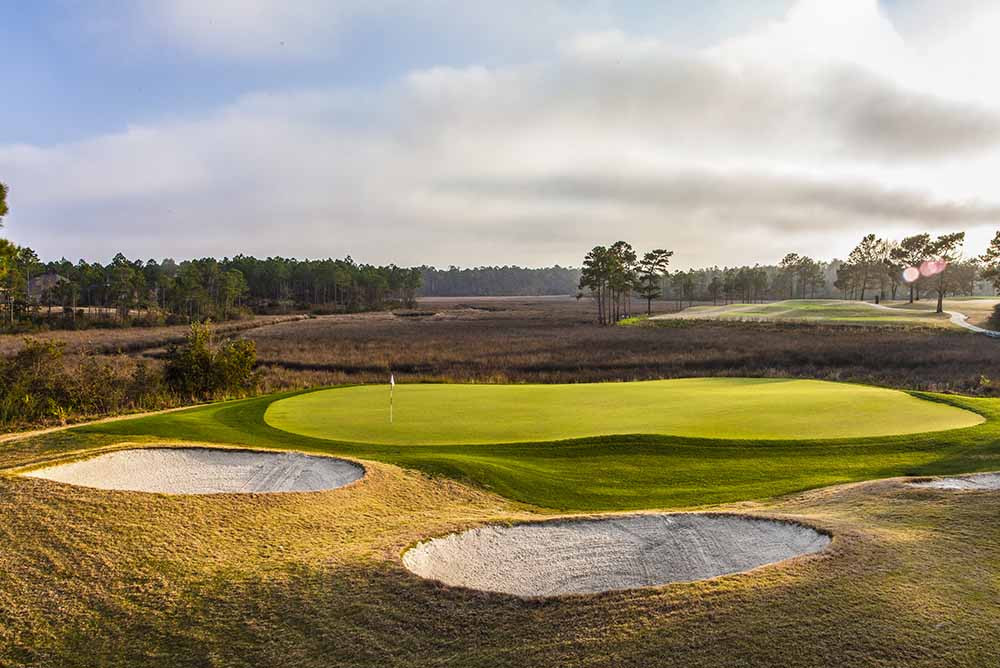 SHELL LANDING
Designed by David Love III, Shell Landing is one of the best courses in the South. Opened in 2000, from the tips the course measures just over 7000 yards. However, while offering some of the best views of this truly beautiful track, this introduces some brutal forced carries and isn't recommended for the average player. With 5 tees on every hole, this is a spectacular course that can be challenging and also enjoyable for average players. Check out the tips for the views by all means, but don't let ego ruin your fun!
My biggest challenge was playing shots amidst the non-stop banter between Chuck (a keen lefty) and Jeff, and I've rarely had so much fun on a golf course. Both are solid players and it made for a perfect day in glorious sunshine. We all agreed that whilst challenging, this course is remarkably fair. The problems are there before you with few hidden surprises, and CEO Kenny Hughes runs a top team keeping the course in great shape, as well as a warm welcome in the clubhouse before and after your round.
With trees, marshes and ponds on every hole there are few if any sub-standard holes here and highlights of the front nine were the par-5 third, a true three-shotter with a double dogleg and a pond in front of the green, and the sixth, a relatively short par-4 played plateau to plateau with a devilish green. The back-nine standout was the fourteenth, another relatively short par-4 but with a large pond cutting right into the fairway, and hugging the fairway and green throughout. Shades of the 18th at Sawgrass. The 17th is a beautiful par-3, 193yds over marshland to a green framed by pine trees, with three large bunkers beyond. Short is terminal, but beware going too far as the shot back will be lightening quick! Great examples where a course doesn't have to be brutally long to be challenging.
Our day ended in fine style when we went on a tour of downtown Biloxi accompanied by local micro-brewery beers and fresh pretzels. There is a surprising amount to see in the town, including checking out the Seafood Museum, Ohr-O'Keefe Museum, the Walter Anderson Museum and the Beauvoir Estate – post-war home of Confederate President Jefferson Davis.
Pages
Click here to see the published article.