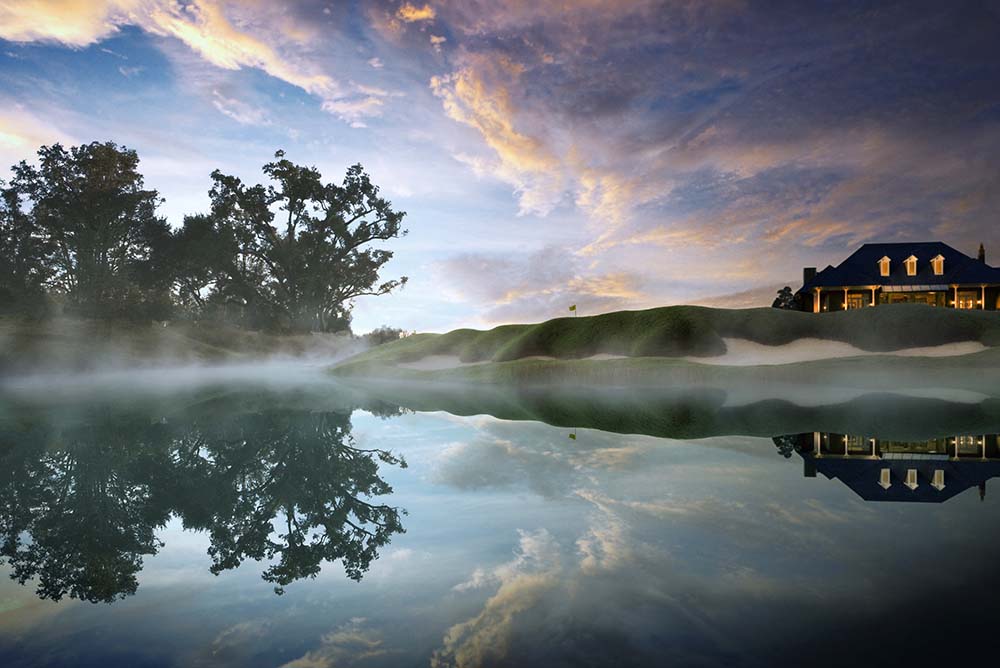 FALLEN OAK
Next morning we welcomed the chance to snooze on a four-hour ride to the Gulf Coast and Biloxi. First stop was perhaps one the best-kept golf secrets in the US – the fantastic Fallen Oak Golf Club.
A Tom Fazio masterpiece, like it's sister course Shadow Creek in Vegas, this lightly used gem is exclusively reserved for guests at the MGM Beau Rivage in nearby Biloxi. The 12,000ft clubhouse alone is first class, with clubs and cars whisked away as you arrive and your shoes taken to reappear cleaned and with new spikes when you are ready to play. You'll also find your name engraved on a plaque on your locker.
In the interim, you must visit the spectacular lounge and dining room overlooking the 18th where 5-star levels of service, food and drink are dispensed. Prominently featured is the massive trophy awarded to the winner of the Mississippi Gulf Resort Classic, a Seniors Tour event held here every year. Current champion? Hong Kong's adopted son Miguel Angel Jimenez!
The GM David Stinson recommended I try the legendary Bloody Mary on offer here and it was perhaps the best I've ever tried. Sip one as you try to name the highly priced tipples in the vast display behind the sunken bar, before settling down to some of the finest golf clubhouse fare in the world. This is a club for the well-heeled, and it shows. The feel is ultra high-end country club, but with far friendlier staff than such facilities usually feature.
The course itself does not disappoint. Unusually for courses in this area, there are significant elevation changes to navigate and the conditioning is exceptional. A significant part of investment was in sand-capping the fairways and installing SubAir on the greens. As such, after rain, the course recovers far quicker than any other local track.
As one might expect, trees (over 4,000 of them) frame the holes – including many Fazio moved to achieve this - and meandering creeks and ponds steer the player towards Fazio's signature deep sand trap features. The par-5 1st immediately encompasses all of the above - a dogleg left, bordered with creeks and a lake.
Played off appropriate tees, this is a superb fun course that lasts long in the memory. Remember to bring a camera as each hole is more spectacular than the last, culminating in the elevated tee on the great finishing hole, a 495 yd par 4, over massive bunkers, with the signature fallen oak on the right and an approach back to the clubhouse with a pond on the left.
If possible, plan to spend the day at Fallen Oak. With first class practice facilities, a multi-award winning course and peerless service and hospitality, it is without doubt one the best club experiences in the US.
Pages
Click here to see the published article.