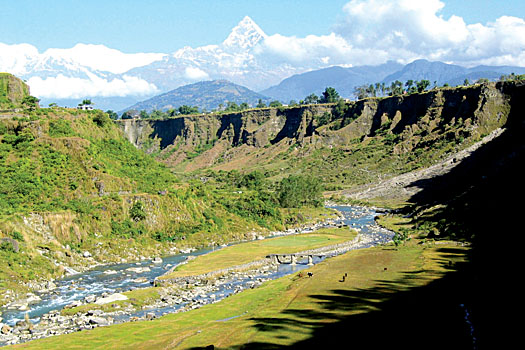 Get High, Play Cool
Jade Dragon Snow Mountain Golf Club, located within easy reach of the Old Town of Lijiang, a UNESCO World Heritage Site in the northwest of China's Yunnan province, is reputedly the longest golf course in the world at a staggering 8,500 yards. There's a reason for this: it is also amongst the world's highest. Taking its name from the snow-capped mountain range that surrounds it, the course, the work of Singapore-based architects Nelson & Haworth, sits at an altitude of approximately 10,000 feet, meaning the ball flies at least 15 per cent further here than it does at sea level. There's really not much that can compare with the joy of connecting with a drive and seeing it fly off at a distance not otherwise achievable on a regular course.
But Jade Dragon is not all about length. Its dramatic locale, the quality of its design and the oxygen canisters in your golf cart (worth a 'hit' if you're starting to feel the effects of the altitude) combine to make this a truly unique golfing experience.
Following a similar theme, a round at the Himalayan Golf Course in Phokara, Nepal must also be considered for those in search of an otherworldly event. Well and truly off the beaten path, this 18-hole layout, set high in the Annapurna foothills, was designed by an ex-British Army Commissioned Officer, Major RB Gurung, who somehow had the vision to sculpt this rollicking track out of a 250-foot deep river valley. The results are sensational, with steep elevation changes, 'island' greens and forced carries over the snow-fed river characterizing much of the course's 6,900 yards. The Himalayan Golf Course is one of those places that have to be seen to be believed.
ljxsgolf.com
Pages
Click here to see the published article.