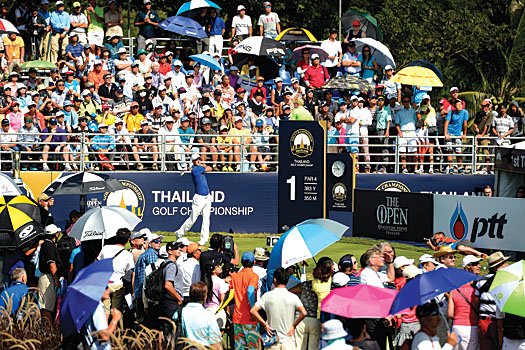 Watch the Stars
In terms of professional golf, Asia is no longer the far-flung outpost it once was. The growth of the Asian Tour, the European Tour's own eastward expansion and, crucially, the emergence of deep-pocketed sponsors - both corporate and individual - mean the world's very best players regularly make forays out to our neck of the woods, particularly towards the end of the year.
As far as star attractions go, the tournament that routinely boasts the biggest names is the HSBC Champions, which has now been designated World Golf Championship status. Tiger has appeared in Shanghai on plenty of occasions (but has never won), Mickelson is a regular and even Bubba Watson, traditionally not the most avid of travellers, wowed all and sundry last time around with his captivating performance over the closing holes.
For those who prefer to see a sprinkling of the game's elite but without competing against vast hordes of spectators - and the Champions event is one where access to the corporate hospitality on the weekend is a tremendous boon - a trip down to Bangkok for the Thailand Golf Championship makes for a very worthy alternative. The event, played at Amata Spring in December, attracts the likes of Lee Westwood (a two-time winner), Sergio Garcia, Martin Kaymer, Rickie Fowler and Bubba for a pre-Christmas showdown with a full field of Asian Tour pros. The sun always shines, the course looks a picture and the pros, given the time of year, are generally in relaxed mood. Grab a Singha and follow them round.
Pages
Click here to see the published article.