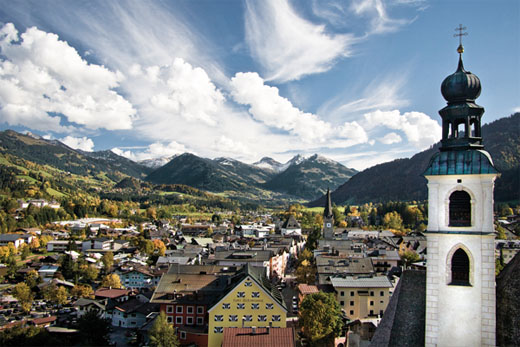 There are links courses where the mere sight of billowing rough from the first tee can dent the confidence. Similarly, any aggressive list of "do's and don'ts" – we have all seen one of them – can play havoc with a man's first-tee equilibrium.
Head for Austria, on the other hand, and the early vibes tend to be rather more settling.
With many of the Austrian courses at altitude, there is the happy prospect of getting more yards for your Euros than you might at any another European venue. A ball will travel some ten percent further through mountain air while, in Kitzbühel in particular, there are plenty of elevated tees to enhance this glorious fact of golfing life.
Take the third hole at Golf Eichenheim, a Kyle Phillips-designed course which was voted among the top 100 in Europe in the 2006-2007 Peugeot Guide. The teeing ground at this particular par-five is so high as to inspire much the same feeling of eager anticipation known to skiers setting out on the world-famous Hahnenkamm Run (Hahnenkammrennen).
Yet not too many visiting golfers latch on to what is happening to their ball-flight at the first time of asking – and that includes no less a player than Colin Montgomerie.
Back in 1987, when Montgomerie was preparing to make his debut on the European Tour at Crans sur Sierre in neighbouring Swizerland, his clubs were delayed en route and he had no time for a practice round.
Though worried about his lack of preparation, he found all his fears evaporating when he teed off from the 10th and hit the drive of a lifetime, one which sailed through the skies and travelled a country mile. "It was as if I had gathered an extra 25 yards simply through turning professional," recalls the Scot.
He strode proudly down the fairway where he found himself faced with a less-than-taxing second to the green. "It was 145 yards to the pin, just the shot for an easy eight-iron," he remembers.
That easy eight-iron was still soaring as it carried the putting surface and pitched into the trees beyond. The 2010 Ryder Cup captain amassed a double-bogey six and finished with a disaster of a 77.
On top of those extra yards, golf in Kitzbühel is simply dripping with charm. The mountain views are one thing, the fastidious manicuring of the courses another. Even the old machinery chalets are apt to feature window-boxes filled to overflowing with geraniums.
Pages
Click here to see the published article.