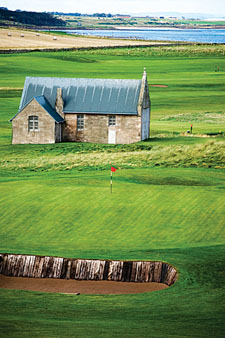 Balcomie Links (Crail)
Laid out in 1895 by one of golf's founding fathers, Old Tom Morris, this windswept par-69 course offers magnificent ocean views and it's not uncommon to see seals, dolphins and gannets as you negotiate the wonderfully varied 18 holes, including six par-3s.
The Duke's
With a spectacular setting inland overlooking St Andrews this championship course gives magnificent panoramic views over the surrounding countryside to the sea. Opened in 1995 and designed by five-time Open champion Peter Thomson, the Duke's course was re-worked in 2007 by the US-based Kohler Company, owners of the Old Course Hotel. Today, the Duke's course is a rare non-links course in the St Andrews area. Gone are the pot bunkers and in their place are rough-edged sand traps synonymous with bygone years of heathland golf. Added to The Duke's credentials is the fact it was chosen to host the 2014 International European Amateur Championship, one of the four majors in the world of amateur golf.
Kittocks Course
Designed by Bruce Devlin and Gene Sarazen the Kittocks course uses the surrounding environment's natural contours to blend stunning landscapes with authentic Scottish features, including the powerful medieval skyline of St Andrews. With a par of 72 and playing over 7,000 yards from the tips, the layout is both entertaining and challenging. The approach to the coastal holes begins with a roller coaster ride up, over and around the untamed wilderness of Kittocks Den, then moves on to holes that feature greens that appear suspended over the rugged cliff edge.
Torrance Course
The Torrance Course is the first design by victorious 2002 European Ryder Cup captain Sam Torrance. His course sweeps its way around the Fairmont St Andrews hotel and down to the coastal edge, where it uses the natural contours of the land and the dramatic coastal setting to create unforgettable links-style features, including fast running greens, fescue rough and daunting bunkers.
Pages