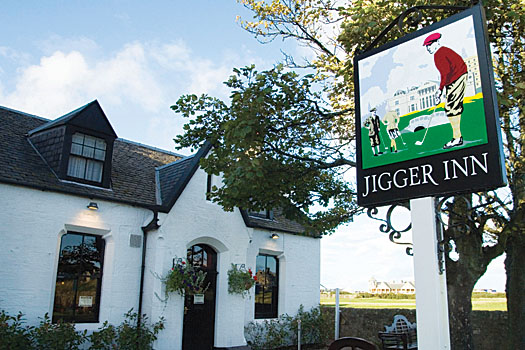 Right next to the 17th fairway is one of the most famous golf pubs in the world, the Jigger Inn. This former stationmaster's lodge dates back to the 1850s and is a favourite with golfers such as Open champions Darren Clarke and Tiger Woods as well as local caddies who enjoy a pint here with their guests after a long day on the links.
As we enter, an Edwardian open fire casts a warm glow over the small green wooden bar and numerous alcoves all decked out with tartan furnishings. On offer is a superb selection of Scottish beers and hearty home-cooked food - this is Scottish hospitality at its very best.
In one of the cosy booths we get chatting with David Williams, Hugh Grant's caddie at the Alfred Dunhill Links Championship a few years ago. "He's a nice bloke, just how he appears in the movies, and not a bad golfer either," he tells us, as we enjoy our pints watched over by an impressive black-and -white photograph of Old Tom Morris.
We ask David about the 19th hole and what it means to him. "Every golfer understands the tradition and importance of the 19th hole, it's all about fellowship and camaraderie. After your round you go there to socialise with friends, perhaps celebrate your best ever round, or more likely drown your sorrows after a poor one," he says. "Golf is a common language and it's easy to chat to the people at the next table about the course you played that day or team up with new golfing friends for a round the next. It just snowballs from there and before you know it everyone is talking to each other."
St Andrews has several other golfer-friendly taverns including the Scorecards Bar (near the Old Course's 18th green), where the walls are adorned with scorecards from various Opens. There's also the Pilmour Hotel (just up the road from the Dunvegan), Whey Pat Tavern and Ma Bells (inside the Hotel du Vin St Andrews), a regular hangout for Prince William during his university days.
But the 19th hole just wouldn't be the same without playing the 18 holes before it, and St Andrews is known as the Home of Golf for good reason. Not only is this game's hallowed birthplace - 'On May 14 1754, twenty-two" Gentlemen of honour, skillful in the ancient and healthy exercise of Golf," founded the Royal and Ancient Golf Club of St.Andrews,' - but today's golfers have a choice of around 20 courses to play within a short drive of town. Although the venerated Old Course is the best known here are six others to test your game.
Pages