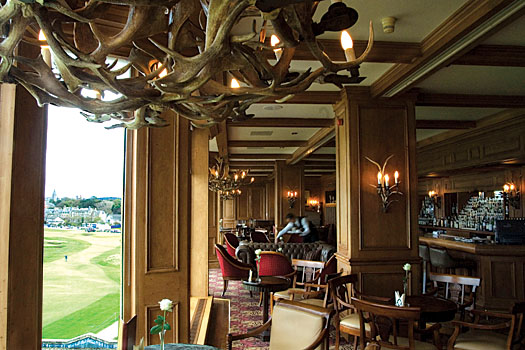 Before it was built, there were no amenities at all around the Old Course and members of the Royal and Ancient Golf Club assembled at the cobbled end of Market Street in their red jackets and goose-necked clubs tucked under their arm. 1 Golf Place has some interesting displays highlighting the history of golf at St Andrews. In an excerpt from a local newspaper, the St Andrews Citizen, from the 1870s, the correspondent writes:
"Young Tom Morris has won the belt for the third time," were the words on everybody's mouths when the news arrived of his success and they seemed to convey the aura of satisfaction. A flag was displayed from Old Tom Morris's workshop and when it became known that the champion would arrive on Saturday night with the 10 o'clock train, a number of his friends awaited his arrival, and he had barely set foot on the railway terminus when he was hoisted shoulder high and borne in triumph to Mr Leslie's Golf Inn, where his health was drank with every honour.
We take a short walk alongside the Old Course's 18th fairway and past the green of the famous Road Hole 17th to arrive at the award-winning Road Hole Bar, located on the top floor of the five-star Old Course Hotel. After ordering a couple of fine single malts we sink into one of the huge leather armchairs to enjoy the amazing views of the Old Course through the floor-to-ceiling windows and try to identify golfers and celebrities as they make their way up the 17th fairway.
Whisky loving golfers will think they have stumbled into heaven here with a stunning selection of over 200 whiskies including a Tullbardine (the hotel's own label malt), Highland Malt 1988, which is only sold in the top 10 per cent of bars in the UK, and a rare Ben Wyvis, Highland Malt 1972.
Pages