Thailand's Chayanid Prapassarangkul cruised to a five-shot victory at the rain-shortened Hong Kong Ladies Open Amateur Championship, which was completed at Clearwater Bay Golf & Country Club in early September.
With adverse weather conditions hampering play over the first two days, the field returned early on the final day to complete the opening round – and it was 17-year-old Prapassarangkul who fared best, carding six birdies to cap a brilliant 68 and take a healthy six-stroke advantage into the final nine of the curtailed tournament. A solid one-over score of 37 in the afternoon enabled her to finish comfortably ahead of compatriots Ornnicha Konsunthea and Sherman Sanjiwiwatthanpong, who tied for second place.
With the in-form pair of Mimi Ho and Kitty Tam representing Hong Kong at the National Games in Shenyang and therefore unable to compete on home turf, the SAR's best hopes lay with Tiana Gwenn Lau, who had enjoyed a successful summer competing in the United States. The 16-year-old didn't get off to the best of starts in the rain but a fine final nine-hole score of 36 enabled her to climb the leaderboard and finish in a share of fifth overall. Sisters Estee Vivian and Emily Vickie Leung claimed a share of seventh, a further five shots back.
In the Mid Amateur division, denoting competitors aged 25 and over, Hong Kong's Alice Karr put in a solid effort to hold off Felicia Louey and claim the title by two shots. Jane Lo finished in third place.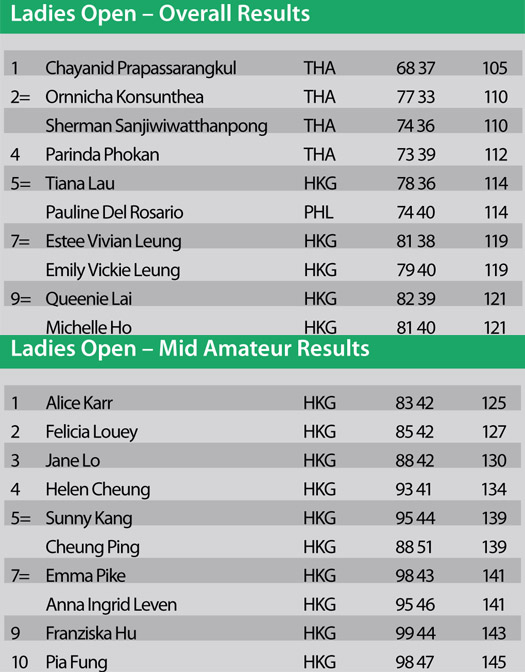 Click here to see the published article.