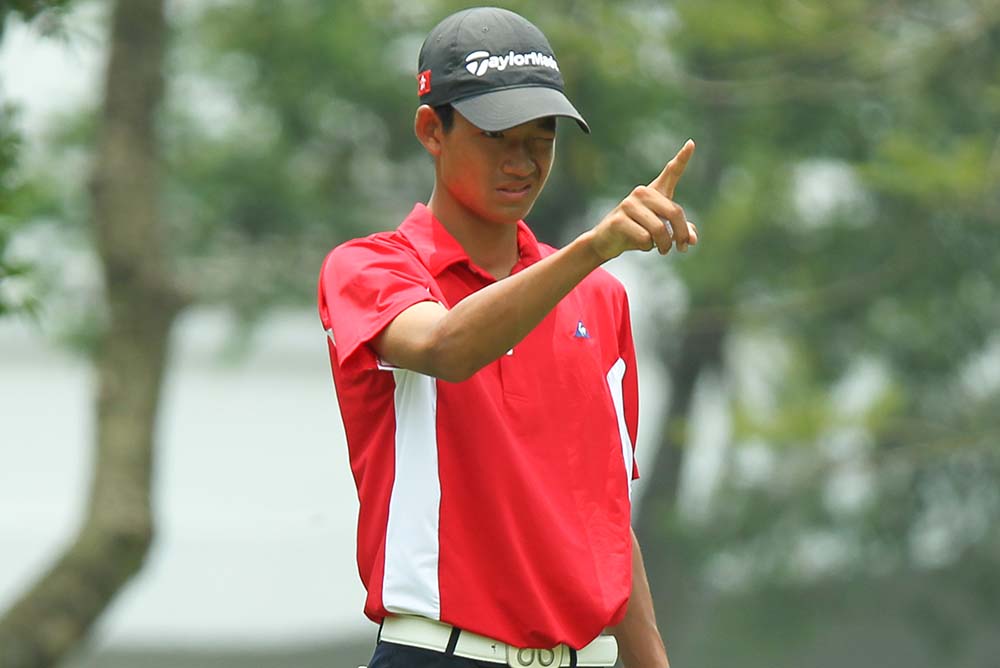 FIRST 1/3: 20 minutes working on his swing technique, using key drills set for him by his coach. In this 1/3 its fine to hit to just one target with one club, and using aids such as an alignment aid.
SECOND 1/3: Focusing on rhythm and motion, and in this third, no technical thoughts are allowed. The rule is that every shot must be different – so may use the same club for five shots, but then aim at five different targets. Or do Steve Banns' 9 shot shape drill to hit all the nine ball flights with nine balls. It can also mean changing club every shot. The essence is about changing shots and focusing on the motion as opposed to the technique.
FINAL 1/3: Simulating competition Put yourself under pressure by introducing a 'win-lose' element. This last section creates a bridge from your practice to your play as it helps you transfer your range work to hitting good shots down the stretch. Extensive testing has shown that practising in pressurised situations is the most efficient way of inoculating yourself against the negative effects of pressure. Use your pre-shot routine just as you would on the course and have a specific practice drill that simulated competition.
It's important to apply it whether you're practising your long game, short game or putting. So, for instance, a 45-minute putting session may look like this:
-    15 mins on technique – you may use training aids such as a putting rail to work on stroke direction, or a laser for face aim, etc. You may just practice the same putt – so a 2 or 3m straight putt for 15 minutes during this period.
-    For the next 15 minutes, put the training apparatus away and to practice rhythm and motion. Perhaps some putting with your eyes closed to gain feel, or distance control and feeling drills such as the cluster drill. Practice different length and breaking putts as well.
-    The final 15 minutes -  Set up a competitive drill with win-lose. Using full pre-shot routine and perhaps it can be a distance control test or a holing out the test. One drill I like to use is that players need to get the ball into the zone (up to a putter length behind the hole) with five consecutive putts. Each putt will be a different length, from a different position so that it tests green reading skills as well. I like the idea of 'consecutive' putts as this builds pressure on balls 3, 4 and 5. I may give a player a maximum of 5 'lives' so that they can restart the drill a maximum of 5 times.
What I have found in applying the concept for over 15 years is that it assists players to build what I call competitive confidence – confidence under pressure. Because they've been tested and challenged during practice, they then are better prepared to perform when they face challenge and pressure during competition.
You will be able to build confidence that you can hit the key shot under pressure – because that's what tournament golf is about – being able to execute the key shot at the critical time. This summer, Jordan Spieth won the biggest tournament in golf – the British Open. He had the best four days of his entire career which has already been star-studded. He hit less than 50% of the fairways in this tournament – his game was far from machine-like – but he possessed competitive confidence and skill, which enabled him to get the ball in the hole over 72 holes in fewer strokes than any of the other 156 competitors – which is the essence of Tournament Golf. 
Interested to know how you can build competitive confidence and skill in your practice? Here's a platform of videos primarily for the HK squads, but every golfer in HK can view and access:
https://vimeo.com/user65497450
Jonathan Wallet is the Golf Development Director of the HKGA.
Pages
Click here to see the published article.