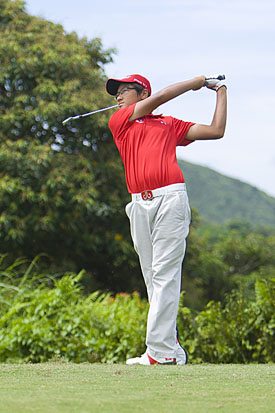 That result, in addition to a run of consistent performances in both HKGA and HKGC events led to his selection for Hong Kong at last month's Asian Youth Games in Nanjing, an experience he relished.
"It was a great experience, even though I didn't play that well," said Ho, who first picked up a club at the tender age of four. "To have a chance to play in such a big event helped me learn a lot, especially about the quality of players in Asia alone. I enjoyed the atmosphere that is part of such a major event – not just for golf but for many other sports as well – and I'm proud to have been able to represent Hong Kong."
In addition, Ho, who won the boys' 13-14 age division at last year's Hong Kong Junior Open, participated in arguably the most prestigious junior event of them all this summer – the Callaway Junior World Championships at Torrey Pines in San Diego. Although he missed the third round cut on that occasion, you have the feeling that we'll be hearing a lot more about this promising 2-handicapper in the months and years ahead.
Click here to see the published article.