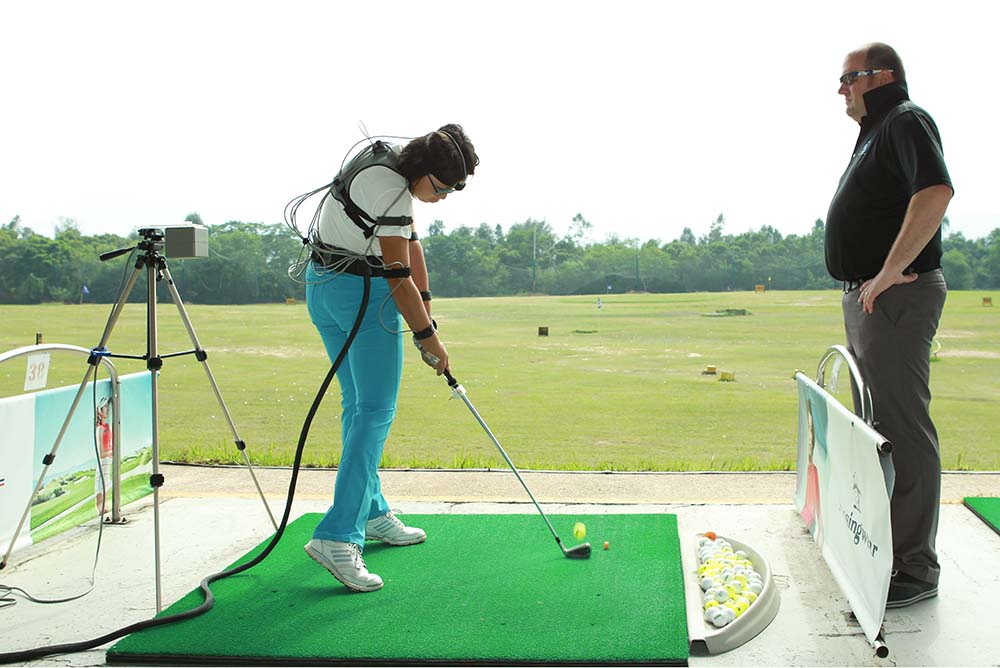 I've had the opportunity to sit down and speak with seven World No.1s about their own personal golfing journey. With the information I gleaned from this front seat ride, I was able to create and develop a model - which I call the "Four Quadrants to Player Development":
Instruction
One question I often get asked is what is the difference between Coaching and Instruction. Instruction is 'telling' where the instructor gives the answers or information to the student. But Coaching is 'asking the questions' to lead the player through self-discovery. One requirement to accelerate Elite Player Development is for players to have access to Master Coaching. In the HKGA initiatives, we have introduced a Biomechanics Program utilising one of the World leading Biomechanist from Australia who has worked with players such as Thomas Pieters, Lydia Ko and Henrik Stenson and currently is an consultant to the Australia, Japan and NZ National Teams (and now the HK team!).
Environment
This is a critical element, and essentially it means creating a challenging, testing, but safe (emotionally i.e. not fearing judgement or criticism) environment. A short story highlighting this concept is from the 2013 U.S. Open at Merion. One evening there I was talking at dinner with Lee Westwood about his golfing journey from Junior to World No. 1. He said that the main thing that improved his game as a junior was trying to beat Stuart Cage - who was at the time his assistant manager and pouring a drink for Lee! They had grown up together in Yorkshire and Stuart was the star as at the time as he was a little older than Lee.  In the HKGA program, we have introduced the 'Performance Practice Program'. Each player has his or her A6 practice folder, and next month everyone will have access to a virtual learning platform of videos of the different games and tests. We want to build a more challenging testing environment for the players both when they practice on their own and when they train in GA classes and camps.
Experiences
You can't learn skiing in the classroom, and you can't learn golf on a range or practice putting green. Successful Tour players have enjoyed in their upbringing rich tournament experiences - tournament experiences that have challenged them, introduced them to players better than they were and an environment in which their skills can thrive. In the HKGA Program, we look to send our players to International Tournaments as early as possible so that they can view the bigger golfing world. Later this year we are seeking to roll out a Tournament Player System - it will be the exact tournament preparation, analysis and review system I use with Tour Players. This will allow HK Players to gather their learning experiences from their tournaments better, so they can utilise these experiences for improved future success.
Coaching
The fourth quadrant is Coaching. We want players to take ownership and self-responsibility of their golf games - not to be dependent on others but to be self-reliant. To assist this, we have initiated the HKGA Coach Certification Program so we can help local coaches to develop their coaching skills and transfer this expertise to the local players they work with. We have instigated an in-house Coach Development Program as well so we can look to continuously improve the quality of the delivery of the GA Classes.
I think one challenge that Parents and Coaches often misunderstand with success at the elite level in golf is that the game is a Performance Art. To score consistently low, it requires a unique fusion of many different elements - technical, mental and management to name a few. It's not like studying at school, where often the person who studies the longest has the most success. The best artist is not the one who starts painting from dawn to dusk, but the person who expresses their artistic skills the best on the canvas - just like a successful tournament golfer who can bring the product of the many different skills the game of golf demands into a performance solution i.e. the lowest score and a score lower than the other competitors.
It's important to work hard, but much more important is to work smart. To work smart, it will require these 4 critical quadrants, and then the player to apply this in a disciplined and focused way. This then creates a 'greenhouse' for accelerated player development or growth.
In the next article, I'm going to discuss the keys to Performance Practice - it has been researched that 80% golfers regress through practicing, 10% stay the same, and 10% improve. Hopefully, I'll outline how you can be in the 10% improving, so don't miss it! Please write to jon.wallett@hkga.com if you have any comments.
Pages
Click here to see the published article.