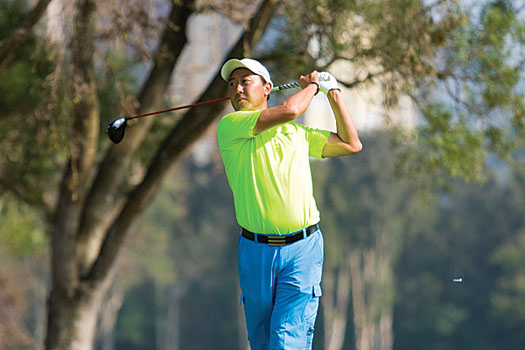 One could hardly expect a repeat of last year's drama, when Max Wong defeated Arnold Wong in a sudden-death play-off, but when the draw came out for this year's event the keen observer could see that if Wong, seeking his fifth win, were to falter, there were an unusual number of possible winners. The field included six past champions - formidable veterans like Doug Williams, Tim Orgill, John Ball and Tony Taylor - as well as five young lions in the form of Leonard Ho, Jeffrey Wang, Andrew Tsui, Alec Jewkes and Nicholas Brown. Kelvin Inge, a former strokeplay champion, and the evergreen Terry Collins completed the 16 that made it through to the matchplay stage.
Williams had played sub-par golf in his preparation for this championship and he duly sailed past Ball and Inge to reach the semi-final. Those who prayed for Max's demise were to be disappointed. He was three and four-under-par respectively in despatching Taylor and the powerful Jewkes to reach the other semi-final. Jewkes was particularly unfortunate; his was a near-par round and yet he was beaten by 5&3.
Williams' steady play and impeccable short game saw him beat Wang by 3 & 2, and Max defeated Orgill in the other match. A poor start hung a millstone round Orgill's neck but he fought manfully until a birdie-eagle finish by Max on holes 13 and 14 closed out the game.
After some overnight rain, Sunday dawned warm but breezy. Would Williams fill this one gap in his golfing résumé by beating Wong? For first 12 holes in the morning, Doug was implacable, saving strokes in a way that would have made Phil Mickelson proud. Wong's game was a little slack by his high standards, and he was three-over-par with but a single birdie through 11 holes.
Pages
Click here to see the published article.